I'll Have What She's Having!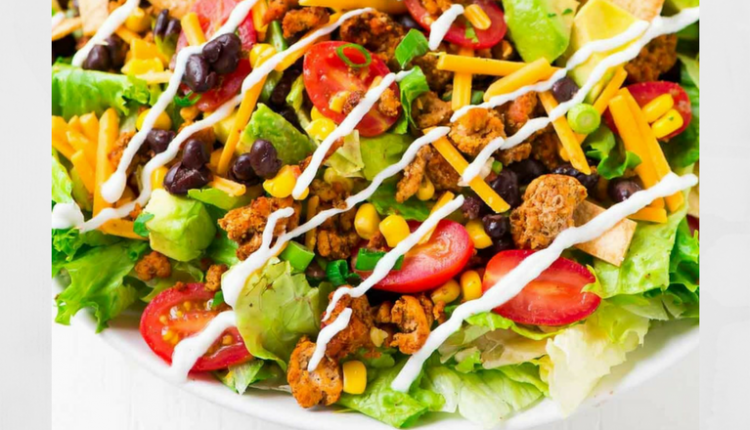 True confession.
My husband is not a huge fan of ground turkey. I have tried to make things for him with it but it no longer worth it. So I use a super lean meat and add in ground chicken. For some reason the texture is a bit better and he doesn't mind that combo so there you go. Ground chicken it is!
Skinny Taco Salad
Ingredients:
Salad:
2 Fajita-Size Flour Tortillas
2 teaspoons extra-virgin olive oil, divided
3/4 teaspoon kosher salt, divided
1/2 teaspoon black pepper, divided
1 pound 93% lean ground turkey ( or whatever meat you want to use)
1 tablespoon chili powder
1 teaspoon ground cumin
1/2 teaspoon garlic powder
1 head romaine lettuce, roughly chopped
1 (15-ounce) can reduced-sodium black beans, rinsed and drained
1 (11-ounce) can Mexican-style corn, drained
2 cups cherry tomatoes, halved
1 medium, ripe avocado, peeled, pitted, and diced
1 cup loosely packed cilantro leaves
1/2 cup reduced fat shredded sharp cheddar cheese or feta cheese
1/4 cup thinly sliced green onions
FOR THE SALSA YOGURT DRESSING:
1/4 cup of your favorite salsa
1/4 cup nonfat plain Greek yogurt
Directions:
Place a rack in the center of your oven, and preheat the oven to 425 degrees F.
Coat a large rimmed baking sheet with nonstick spray.
Stack the tortillas and cut them in half, then slice each half into 1/2-inch strips. Scatter the strips in the middle of the prepared baking sheet.
Drizzle with 1 teaspoon olive oil, then sprinkle with 1/4 teaspoon salt and 1/4 teaspoon pepper. Toss to coat, then spread them into a single layer.
Bake until golden brown and crisp, about 8 minutes, turning halfway through. Set aside to cool.
Meanwhile, in a large, nonstick skillet, heat the remaining 1 teaspoon olive oil over medium high.
Add the turkey, chili powder, cumin, garlic powder, and remaining 1/2 teaspoon salt and 1/4 teaspoon pepper.
Break up the meat and stir with a spoon until it is cooked through, about 5 minutes.
In a small bowl, stir together the salsa and Greek yogurt to make the dressing.
Place the romaine in a large serving bowl.
Top with 1/4 cup of the salsa-yogurt mixture, the turkey, black beans, corn, tomatoes, avocado, cilantro, cheese, and green onions.
Toss lightly to combine, then sprinkle the tortilla strips over the top.
Serve immediately with remaining salsa-yogurt dressing as desired.
Quick Tip: Short on time? Feel free to purchase your bag of favorite tortilla chips. I happen to love the lime chips. Perfect to crumble on top to add that extra crunch.
Photo and recipe courtesy of Erin at Well Plated.