Chill-out with this frozen treat!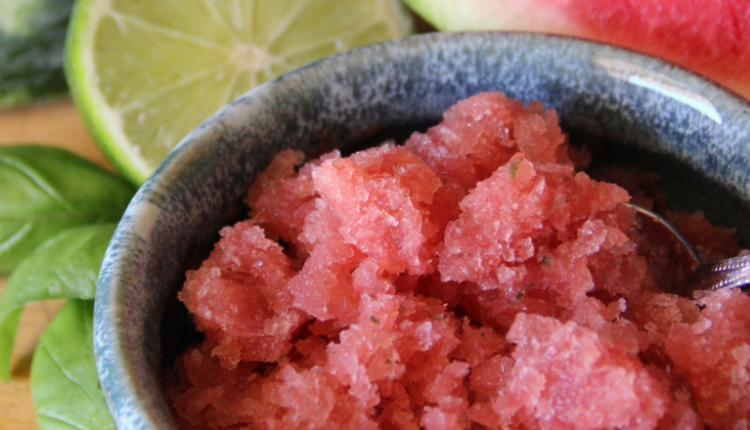 I had no idea making granita was so simple! Oh well, better late than never!
Anytime I saw the glossy photos of fresh fruit granita I was in awe. Seriously, it looked so refreshing and as a gal who asked for a snow cone machine for Mother's Day one year, this really appeals to me.
When my husband and I got married we went to Hawaii for our honeymoon. Every afternoon we would get a huge "brain freeze" snowcone instead of lunch. I loved the assorted tropical flavors and the cool icy treat.
I can't believe I never looked at the recipe. I knew it must be difficult or time-consuming. Boy, was I wrong. You blend the ingredients in the blender and put into a metal 9 x 13 and put it in the freezer. Several hours later you have something that will be the coolest thing ever..literally!
And the other great thing about this easy to create dessert is that there are so many times I will buy a watermelon and it is more than we can eat over a few days. Being able to put a pan of this in the freezer helps me to utilize all of my fruit before it goes bad. That is a saving.
This is what Marci says about this yummy treat.
You know summer is official when you see bins of watermelons at local farmer's markets and grocery stores. I remember my parents buying watermelons on our way camping and putting them in the stream to keep cold. That was in the day when watermelons were the size of something shot out of submarines and big black seeds dotted the red juicy flesh. As a kid, part of the fun of eating a big wedge of watermelon was to see who could spit the seeds the farthest.
GO TO THE NEXT PAGE FOR THE INGREDIENTS AND DIRECTIONS.
Now, the watermelons are seedless, making this recipe super easy to make!
Quick Tip: If you don't care for basil, just leave it out or try substituting fresh mint.
 Photo and recipe courtesy of Marci