Want To Surprise Your Family With A New Way To Fix Rice? Make This For Dinner!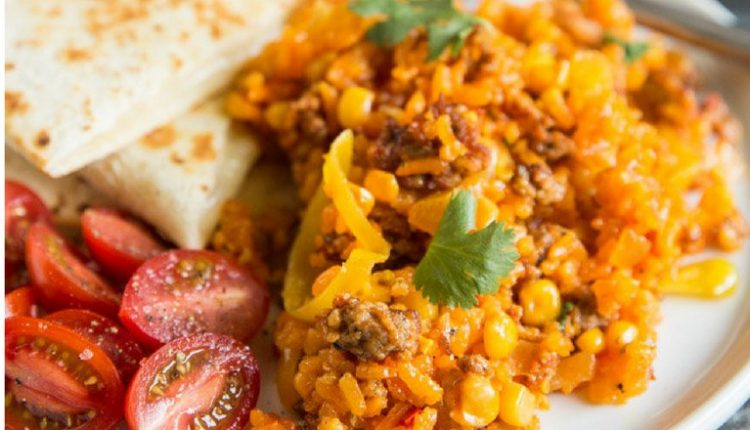 A Side Dish To Tasty You Might Skip Everything Else!
What can I say, I love to make sure I use everything I cook up. I think of it as repurposing! This reminds me of how my grandma used every scrap of fabric for her elaborate crazy quilts. Using everything she had instead of just tossing it aside.
If I make spaghetti one night I will sometimes turn the left-overs into minestrone soup. A chicken dinner might end up as a chicken pot pie. This recipe is full of flavor and a great mix of vegetables so I am already hoping there will be some left over for breakfast burritos. I know, that is kind of a shocker but hear me out on this one.
I love adding rice into eggs when I know my guys are going to need something to fuel them up and fill them up. The fact that this one pot Puerto Rican dish already has great ingredients included makes this a perfect fit. Just scramble up some eggs, add a scoop of this in and toss some cheese on top, then scoop it into a tortilla and you are ready to head out and face the day. See how great it is to already have a plan for left-overs?
This is so good you might want to even make a little extra!  Give yourself a pat on the back for not only making something amazing but embracing the art of resourcefulness!
Livin' for left-overs!
This is what Meggan of Culinarey Hill has to say about her recipe.
"Other tasty ingredients include Italian sausage, pepperoncinis (and juice!), Mexicorn, and fresh cilantro. All very good stuff. If you are worried about spiciness, add a scoop of sour cream to your plate."
GO TO THE NEXT PAGE FOR INGREDIENTS AND DIRECTIONS.
Quick Tip: Can't find the seasoning? Try making this with hot and spicy Italian sausage instead.
Recipe and image courtesy of Meggan at Culinary Hill.