The Side Dish that Stole The Show!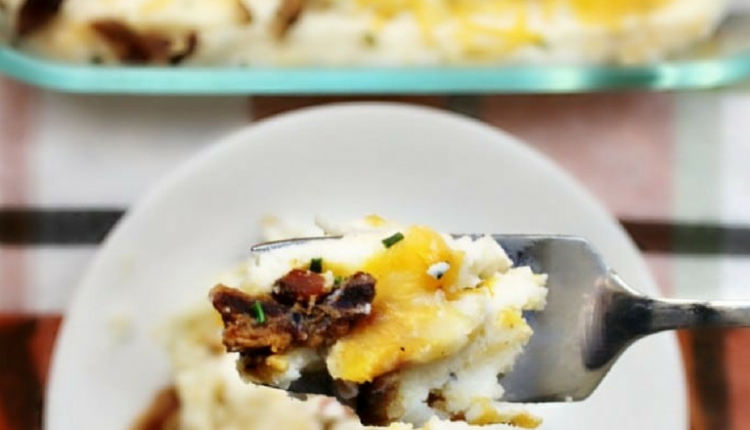 Seriously, no one will even remember what the main dish is after they take a bite of this Ahh-mazing potato dish.
My family loves it when I make creamy homemade mashed potatoes, but sometimes that is just a lot of work and it usually leaves a bigger mess than I would like to tackle when everyone is over.
Peeling the potatoes, boiling, mashing them, then trying to get them on the table while they are still steaming hot is not an easy task.
Finding recipes that I can make the day ahead and just pop in the oven is a huge win for me! I mean with my large family we tend to really go through the food for family gatherings so having something so tasty and filling as a side is awesome. Having something that is budget friendly is even better! In fact this recipe is something that has become a standard on our table for any holiday or reunion.
I remember the time I made a rice pilaf instead and I will tell you that was a huge mistake. The first thing my kids asked were, "Where are the potatoes? " I told them I thought I would try something new. Total fail. So the next time to make up for it I baked a huge pan of this and added in a few extra strips of bacon. They were so thrilled they could have skipped dessert and just had this as we played cards after dinner was over.
And because I could make it ahead, I was able to spend more time visiting and less time in the kitchen.
This is what Amanda from Domestically Creative has to say about her awesome recipe.
As much as I love any type of mashed potatoes, this loaded mashed potato casserole really takes the cake. It's so packed full of buttery, cheesy, bacon-y goodness that no one can turn this dish down.
GO TO THE NEXT PAGE FOR INGREDIENTS AND DIRECTIONS.
Quick Tip: Not sure you want to make such a large pan? Go ahead and use 2, 8X8 pans, or 3 loaf sized pans.
Recipe and photo courtesy of Amanda from Domestically Creative.