The Side Dish that Stole The Show!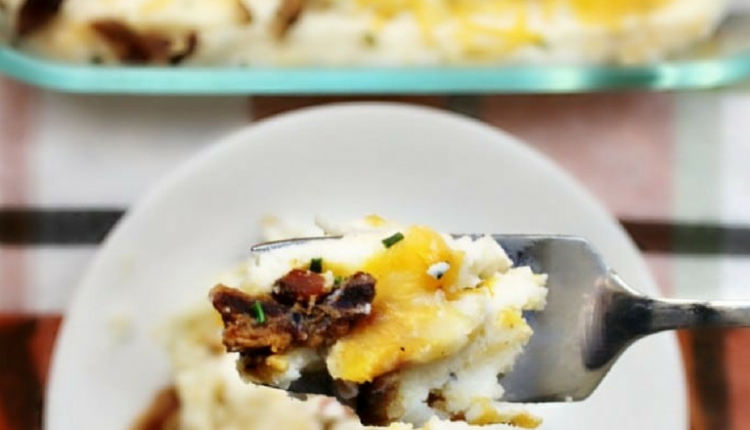 Seriously, when I am in the middle of cooking I don't have time for extra steps. One quick thing I have learned it that when you are making mashed potatoes you can just boil the whole potato. Because this is baked it doesn't matter if the potato has cooled off a bit so what I do score a ling around the potato skin right around the middle. Boil them until done and when cool enough to handle hold onto both sides of potato, almost like cracking an egg, and slip the skins off.  Put the potatoes in the stand mixer and use paddle to mash.
You can make them the way the recipe says, this is just how I do it. Like I said, I am all for making things as easy as possible!
Best Loaded Mashed Potatoes Ever
Ingredients:
4 lbs russet potatoes, peeled and cubed
7 strips bacon
4 oz cream cheese
4 tbsp butter
1/4 cup milk
1 tsp garlic powder
1 tsp cajun seasoning
salt and pepper to taste
1 1/2 tbsp fresh chives , chopped
2 cups shredded sharp cheddar cheese
Directions:
Preheat oven to 350 degrees, and bring 4 quarts water to a boil.
Boil cubed potatoes until soft, drain off water when finished.
Cook bacon in oven at 350 degrees or on stove until crispy. Crumble and set aside.
In a large bowl, add cooked potatoes, cream cheese, butter, and seasonings.
Beat together until creamy.
Stir in 1 tbsp chives, 1 cup cheese and half of bacon crumbles.
In a 9×13 baking dish, spoon in mashed potatoes and spread out until top is even.
Top with remaining cheese, chives and bacon crumbles.
Bake at 350 for 20 minutes, or until cheese is melted and bubbling.
Quick Tip: This recipe can also be made and frozen before baking. Just put in refridge to thaw the day before and bake as usual. Baking time may need to increase but you are smart enough to figure that out!