Baked..Not Fried! Try these Southwestern Spring Rolls Tonight and Watch Them Disappear!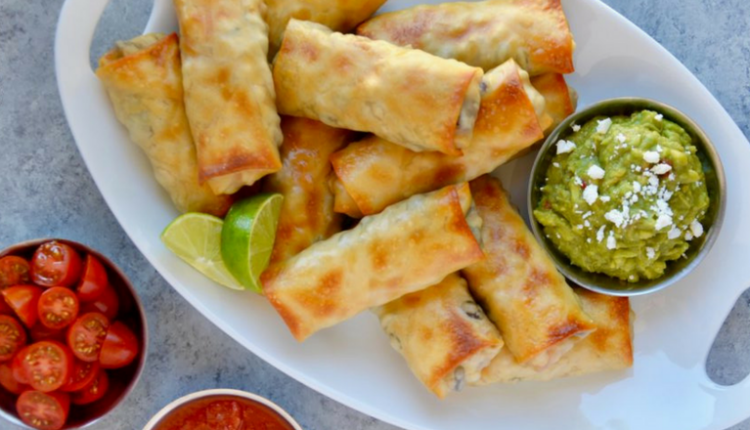 This Easy recipe has all the flavor without all the fat!
The thought of heating up a deep pan of oil and cooking food in it is a bit daunting for a few reasons.
1) I am always looking for ways to cut back on calories.
2.) It is messy. Really Messy! I might be doing something wrong but I seem to spend as much time cleaning up after dinner as I did fixing and eating dinner. No thanks. and finally
3.) I never know what to do with the oil afterwards. Since I rarely ever deep fry anything so it just sits in a mason jar in my cupboard until I eventually toss it out.
But being able to bake these finger foods is great! You can make a whole tray all at the same time and the crispy outside will be close enough to the greasy counterpart that your family really won't mind. They are like mini burritos! And for big kids, they can eat as many as they want because what is inside is a great alternative to junk food.
Set a bowl of salsa next to these and you might even get a "Mom of The Day" sticker! Can I get a Woot Woot!
This is what Kelly of Just a Taste has to say about these creative little masterpieces.
What is it about dough envelops that make for the most appetizing and often addicting snack foods? From egg rolls to wontons, hand pies to pizza pockets—stuff any type of doughy capsule with a sweet or savory filling, and boom! Watch those finger-friendly foods disappear.
GO TO THE NEXT PAGE FOR INGREDIENTS AND DIRECTIONS.
Quick Tip: Want to offer a meatless option? Just replace the ground chicken or beef with a can of red or black beans.
Photo and recipe courtesy of Kelly at Just A Taste