You Don't Even Have To Turn On The Oven For This Tantalizing Dessert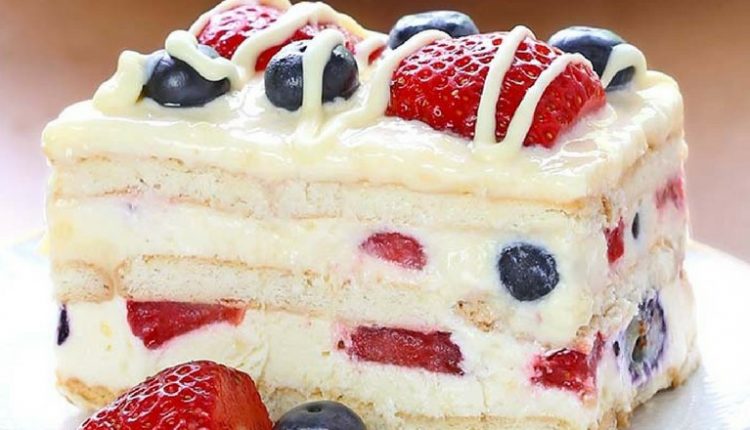 So Tempting You Might Just Eat The Whole Thing
I love summer and all the fresh fruits. I just want to try as many recipes as I can before berry season comes to a close!  This strawberry season and blueberry season has really been the best ever. So what better way to celebrate than to combine those two colorful berries into one dessert. And best part is that you don't even need an oven to make this icebox cake.
I love having a more relaxed summer schedule, but it still feels like we have a million places to be and a million things to do. Part of our summer used to include swim lessons. Not just going to the big outdoor community pool in time to take a class, but spending time with our neighbors and friends.
We would often get together with family and friends for last minute barbeques and we would take whatever we had on hand. Sometimes it was watermelon slices, sometimes I would toss together a southwest inspired green salad. I rarely made desserts unless it was something I already had in my cookie jar. But this recipe is a game changer.
I don't have to heat up the house of hunt for hard to find ingredients since I usually have these on hand!
This is what Dan at Cakes Cottage has to say about this recipe.
"You can throw it together whenever you have time (even the day before is fine) and it will be ready and waiting for you in the refrigerator when you want a sweet treat!"
GO TO THE NEXT PAGE FOR INGREDIENTS AND DIRECTIONS.
Quick Tip: You can use whatever fruit you have on hand. No Berries? No problem! Peaches taste amazing as well!
Photo and recipe courtesy Of Dan at Cakes Cottage