No Bake Lemon Cheesecake Squeezes Every Ounce of Yumminess Into Lighter Fare Dessert.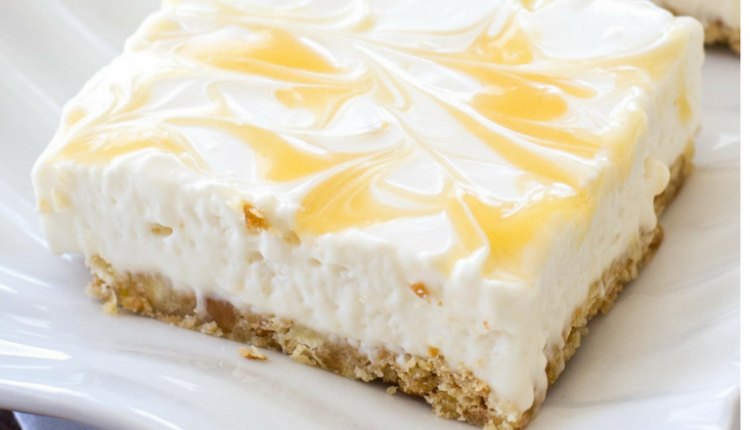 Anyone who knows me know I am a total FREAK for anything lemon.
I don't know what it is but I just can't get enough of the bright tangy taste of lemons.
Even the sight if the citrus is cheery. Nothing says clean and fresh like a bowl of lemons right in the middle of the table.
Being from Northern California I wasn't surrounded by citrus like we are in sunny Southern CA. While I don't think this area will ever feel like home, I have to admit I have become very spoiled with the abundance of produce.
Lemon Curd is one of my favorite things to make. When I have a bowl of lemons I will usually can a few jars, but since they are such a treat, I end up giving them away as little gifts.
Which means I need to make another batch. It is a vicious cycle, but when life gives you lemons..make something fabulous.
This dessert really caught my eye because it is a bit lighter than a traditional cheesecake and is a no-bake option. the last thing you want to do on a hot summer day is turn on the oven.
This is what Michelle has to say about this lip smacking summer delight.
The whole lemon explosion is sitting on top of a vanilla wafer crust!

This no bake lemon cheesecake is full of lemon flavor, and lighter than a traditional cheesecake recipe, making it the perfect summer dessert!
GO TO NEXT PAGE FOR INGREDIENTS AND DIRECTIONS.
Quick Tip: If you have an abundance of lemons  and are not sure what to do with them consider juicing them and pouring the juice into ice cube trays. When they are frozen, just pop the lemon juice cubes out, put into a freezer bag, and put back into freezer. When you need some lemon for anything or even to make a drink with just take out as many cubes as you need.
Photo and recipe courtesy of Michelle of A Latte Food