Three Ingredients Away from AMAZING!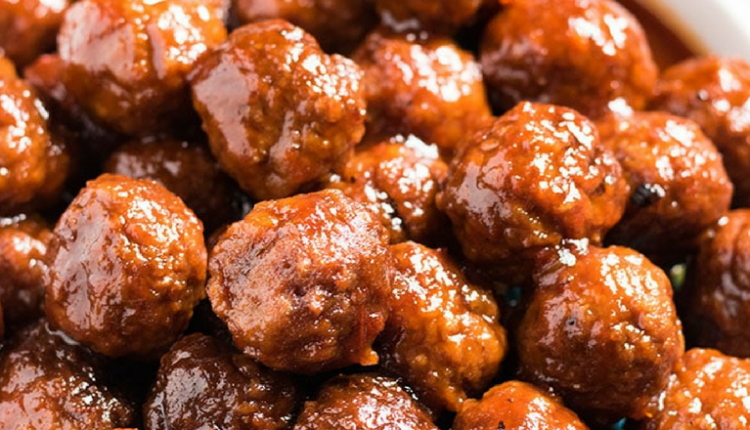 At the end of a toothpick these are a tiny taste of Heaven (insert sigh here).
Don't you hate it when you are asked to bring finger food and you draw a blank. Quickly you run down the list of things you usually take to the party, or gathering and always come up with the same three things.
Veggie dip and a bag of mini carrots, chips and bean dip, or a watermelon. Yeah, I know that is lame, but obviously I am not the only one who gets stumped seeing that we had five people bring sliced watermelon to the last family reunion.
Int eh time it actually takes to cut up a watermelon, and trust me on this, I am pretty darned good at that, you could have these little beefy nuggets in the crock-pot and turned on.
The secret isn't in the three simple ingredients. It is in the time you give it to soak and saturate in the slow cooker or crock pot depending where you are from.
After 3 hours your family and friends will start forming a line, toothpicks in hand, and offer to see if these meatballs are done. That my friend is when you know you have reached appetizer greatness.
This is what Nicole of Salty Marshmallows has to say about this recipe.
Who came up with the idea to mix chili sauce and grape jelly together and then toss it over some meatballs? I remember these being served at any and every single party I attended growing up.Church gatherings, family potlucks, baby showers…..they're everywhere!
GO TO THE NEXT PAGE FOR INGREDIENTS ANS DIRECTIONS.
Quick Tip: Have a recipe for meatballs that you LOVE and can't live without, feel free to go ahead and make them. It might not be the same since they are not frozen but if you are short on time go ahead and put the ingredients in a sauce pan and let them simmer over low heat for about 20 minutes.
Recipe and photo courtesy of Nicole of Salty Marshmallows.