Take The Chill Off With A Bowl Of This Hearty Dish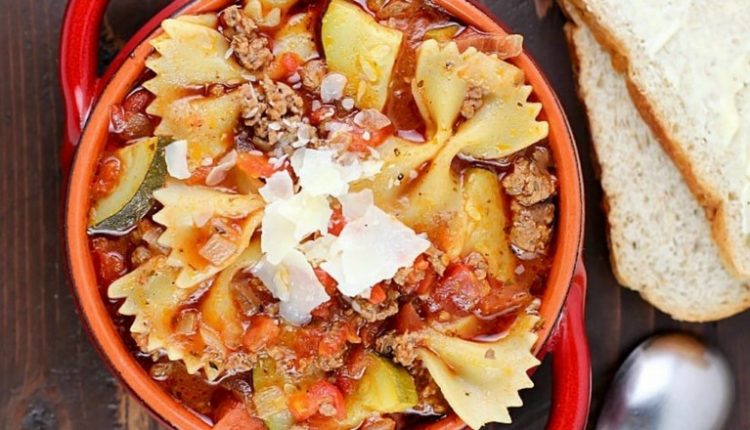 The Taste Of a Classic, Only In A Soup
I love making and eating soups. I think that on a brisk day nothing beats a big bowl with some fresh breadstick to just warm you up from the inside out. We lived in MN for nine years and believe me, there were lots and lots of soup days.
When we moved back to Northern California we lived in the Sierra Mountains. It was a wonderful feeling to have a big pot of soup or stew on the stove when snowflakes started to fall.  The perfect meal after a day of sledding or shoveling the walkway!
Then we made the move to San Diego area. I have to admit I miss the seasons. Not only is it hard to think of fall or winter when you are still wearing flip flops and short sleeves, we don't eat soup very often. At least not as often as I would like, but thankfully I hear temperatures are going to be dropping soon. We might even have a few mornings where you will be able to see your breath when you walk outside. If there is a dusting of frost, well down in SoCal they refer to that as a weather event.
This is what Jen of Yummy Healthy Easy has to say about her recipe.
"If you're like me and struggling to find new meals to make during the week, you MUST try this lasagna soup! My boys absolutely loved it and it's now a new soup on the menu rotation."
GO TO THE NEXT PAGE FOR INGREDIENTS AND DIRECTIONS.
Quick Tip: You can substitute chicken sausage for ground beef if you prefer. I LOVE a chicken sausage I just tried with basil. Yummo. It would be great in this and good for those watching their calories as well.
Recipe and Image courtesy of Jen and Yummy Healthy Easy