Super Easy and Incredible Tasting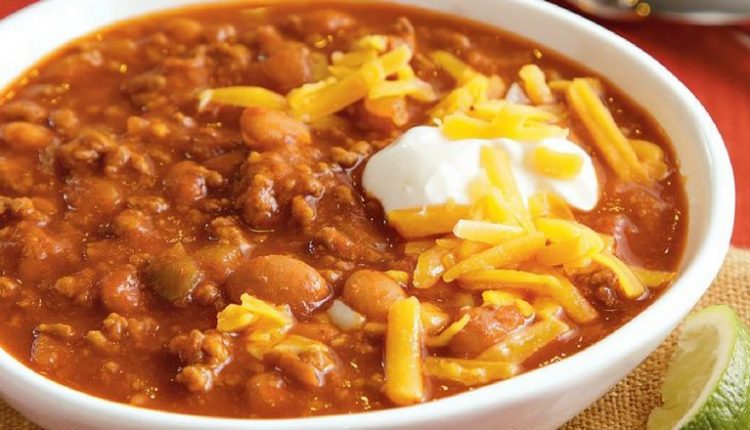 Sure this needs to simmer for a few hours but if you have a crock-pot of a slow cooker you can always just put everything in and let it do it's thing for several hours. I would suggest pre-cooking the beef and putting it in cooked rather than raw so you don't end up with if being greasy. If you are anything like me you will go ahead and buy a big package of ground beef on sale of at Costco and cook it all up at once then divide it out for meals. The last thing I have time for is cooking every day and being able to prep my meals in advance really it a time and money saver!
Game Day Easy Chili
Ingredients
2 lb lean ground beef
1 medium onion, chopped (1/2 cup)
3 to 4 cloves garlic, finely chopped
2 tablespoons chili powder
2 teaspoons ground cumin
1 to 2 teaspoons ground red pepper (cayenne)
1 teaspoon paprika
1 can (6 oz) Muir Glen™ organic tomato paste
3 cups Progresso™ beef-flavored broth
3 cans (8 oz each) Muir Glen™ organic tomato sauce
2 cans (15 oz each) pinto beans, drained, rinsed
1 can (4.5 oz) Old El Paso™ chopped green chiles,
Toppings, if desired
Sour cream
Shredded Cheddar cheese
Lime wedges
Steps
In 5- to 6-quart Dutch oven, cook beef, onion and garlic over medium heat 8 to 10 minutes, stirring occasionally, until beef is thoroughly cooked; drain.
Add chili powder, cumin, red pepper and paprika; cook 1 minute.
Stir in tomato paste; cook 1 minute.
 Add remaining chili ingredients; stir until combined.
Heat to boiling; reduce heat to low. Cover; simmer 2 hours. Serve with desired toppings.
Quick Tip: Serve with a pan of cornbread of make cornbread muffins to serve with this dish! Add a small bowl of honey butter.
Image and recipe courtesy of Betty Crocker