This is the Recipe My Family COuld Eat Every Single Day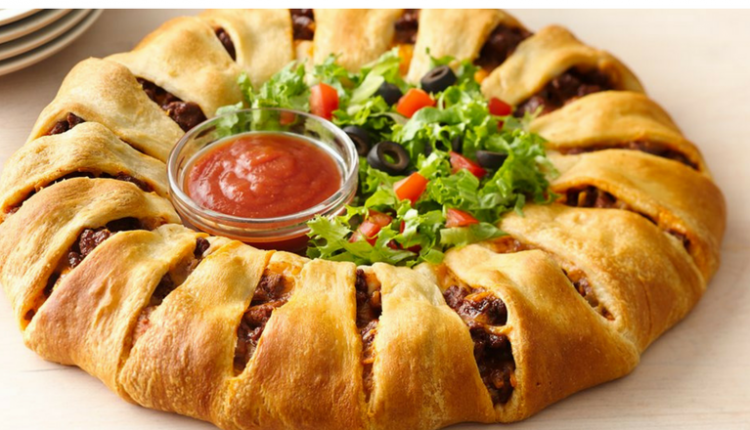 Not only is this a beautiful dish it is totally packed with flavor you don't want to miss.
I used to make this with ham and cheese, but making this with taco meat is an absolute stroke of genius.
I know that this recipe from Pillsbury said it is for 8 people, but there is no way my family would have been able to eat this and not walk away hungry so I used to make two of these.
Being able to have ingredients on hand for when life is busy is not only a healthier option it is so much better on the budget.
Buying the tubes of crescent rolls isn't the cheapest, but I have usually been able to find these on sale from time to time and the shelf life is pretty decent so next time you think about it of see these, go ahead and buy a few tubes.Plus, it is cheaper than driving through a fast food line.
I had a tube of dough on hand one Sunday not long ago, my teen was working on homework, my husband was resting up for the busy week ahead. I tossed one of these in the oven. The fact that is was filled with hot meat and cheese made everyone smile. A snack isn't always just a cookie or a banana, sometimes you need something a little more.
After it was finished off I got a heartfelt Thank you! And since I served it onto paper plates, right from the cookie sheet. the mess was super minimal. Hey, I need a break every once in a while as well!
This is what Pillsbury has to say about this super simple but smashing success.
This taco-filled crescent ring is the perfect meal for Taco Night! Dress it up with fresh shredded lettuce, chopped tomatoes and taco sauce for a fun twist on tacos!
GO THE THE NEXT PAGE FOR INGREDIENTS AND DIRECTIONS.
Quick Tip: Serve this with beans, rice, and a huge bed of lettuce. It will be perfect as the centerpiece for dinner.