One Taste and My Mother-In-Law Asked for the Recipe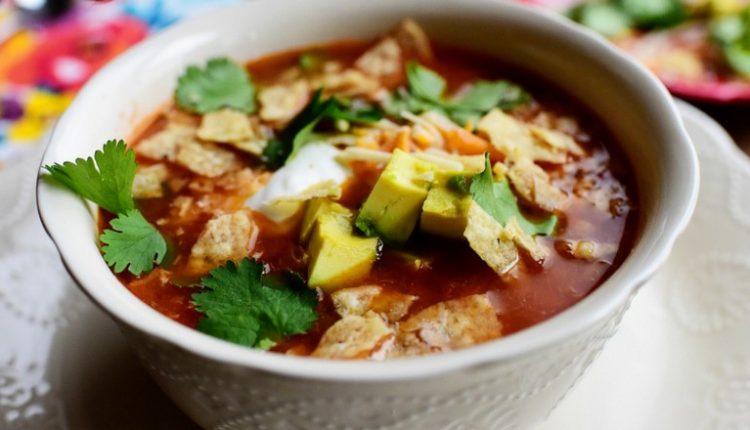 I had thought I would be gone for just a quick errand. But after I left the house I received a call that my teen had forgotten his sports gear in the car and I needed to head back to the school. As I was leaving I remembered that I had ordered a book at Barnes and Noble and needed to pick it up across the town. Since I had driving to get the book, I figured I might as well stop at Costco which was nearby and get a few of the needed items from my list.
While at Costco, my teen called and asked if I could bring him something to eat. Long story short, I was SOO glad I had put this soup in the Crock Pot before I left the house.
Super Easy Crock Pot Chicken Tortilla Soup.
INGREDIENTS
3 whole Chicken Breasts
2 teaspoons Chili Powder
1 teaspoon Cumin
Salt And Pepper, to taste
1 whole Medium Onion, Chopped
1 whole Red Bell Pepper, Seeded And Chopped
1 whole Seeded Yellow Bell Pepper, Chopped
1 can (28 Ounce) Whole Or Diced Tomatoes, With Juice
1 can Rotel or diced tomatoes with chilies
4 cups Low Sodium Chicken Broth
4 ounces, Tomato Paste
1 whole Chipotle Pepper In Adobo (may Add 2 To 3 If You'd Like)
1 can Black Beans, Drained And Rinsed
1 Lime, Juiced
OPTIONAL TOPPINGS: Sour Cream, Avocado, Cilantro Leaves, Grated Cheese
INSTRUCTIONS
Place the chicken in the slow cooker.
Sprinkle on the chili powder, cumin, and salt and pepper.
Add the onion, bell pepper, tomatoes, chicken broth, tomato paste, chipotle, and black beans.
Stir, place the lid on the slow cooker, and cook on high for 5 hours or high (or 8 hours on low.)
Stir in the lime juice.
Using 2 forks, break up the chicken into chunks (or you may shred it more fine.) Taste and add more salt if the soup needs it.
Serve it piping hot in a bowl with avocado, sour cream, grated cheese, and cilantro leaves on top!
Quick Tip: Since this makes a large batch you might want to freeze half for later!
Image and recipe courtesy of Ree Drummond at The Pioneer Woman