No Need To Stop For Coffee And A Pastry On Your Way To Work When You Can Make It At Home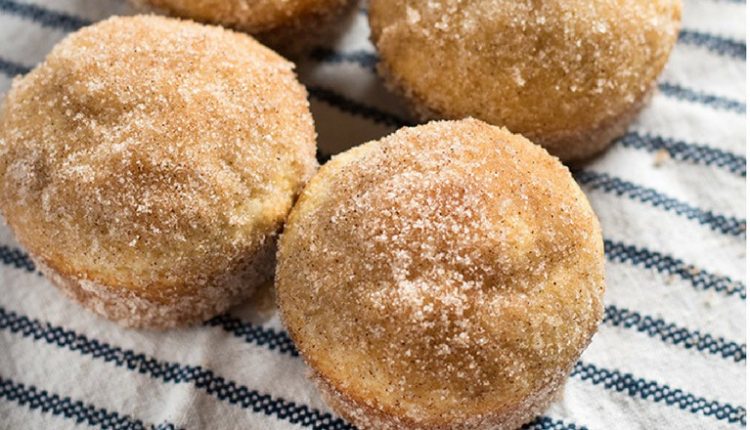 This batter is super light and airy so it doesn't feel heavy. The spices are a perfect blend from the first time you take a bite. Seriously you might want to consider making a double batch because as soon as these cool off enough to roll in sugar you are not going to be able to resist.
Making these in small muffin tins really do look like donut holes!  Cute and amazing! Now that is something I am going to have to fix my grandkiddo the next time I go to visit!
CINNAMON SUGAR DONUT MUFFINS
Ingredients
FOR THE MUFFINS:
1 1/2Cups All Purpose Flour
1/2Cup Granulated Sugar
1 1/2Teaspoons Baking Powder
1/8Teaspoon Salt
1/2Teaspoon Ground Cinnamon
1/4Teaspoon Nutmeg
1Teaspoon Vanilla Extract
1Large Egg
1/2Cup Milk
1/3Cup Butter, Melted and Cooled
FOR THE TOPPING:
1/3Cup Granulated Sugar
2Teaspoons Ground Cinnamon
5Tablespoons Butter, Melted
Directions:
Preheat oven to 350 degrees.  Grease muffin cups or line with paper liners. Set aside.
In a large bowl whisk together the flour, sugar, baking powder, salt, cinnamon, and nutmeg.  Set aside.
In a small bowl beat the eggs.  Add the milk, vanilla extract, and melted butter and mix well to combine.
Add the wet ingredients to the dry ingredients and stir just until moistened, being careful not to over mix.
Spoon batter into muffin cups about 1/2 – 3/4 of the way full.  Bake in preheated oven for 20-25 minutes.  Allow muffins to cool for 5 minutes before removing from pan.
For the topping:  In a small bowl mix together the cinnamon and sugar.  In another small bowl melt the 5 Tablespoons of butter.
Dip the muffins into the butter, then roll in the cinnamon sugar mixture.
Quick tip: Store in airtight container. Really, they are not going to last that long.
Recipe and image courtesy of Nichole at the Salty Marshmallow.