I Never Thought Sweet Potatoes Could Taste So Amazing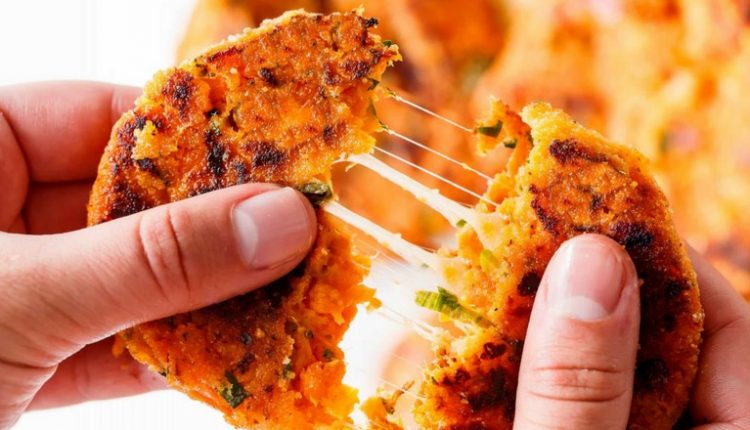 I know I mentioned about using canned yams as something I would never repeat, but if you can't find authentic sweet potatoes you can substitute yams. You might be surprised how delicious they are cooked or baked and because they are a dense root vegetable they have a long shelf life in your pantry. I can't wait to try this recipe, because it will be the perfect finger food at my next gathering and much more filling than just chips and dip. The fact it is made with great ingredients also means this can be served with dinner, and at breakfast. The only problem is they are not going to last long!
Cheesy Mashed Sweet Potato Cakes
Ingredients
4 cups mashed sweet potatoes (we used 5 medium-sized sweet potatoes)
2 cups grated mozzarella cheese
1/4 cup fresh grated parmesan cheese
1/2 cup green onions (scallions or green shallots), chopped
3/4 cup bread crumbs, divided
2 large cloves of garlic finely chopped (or 2 tablespoons minced garlic)
2 tablespoons freshly chopped parsley
1 egg
salt and fresh cracked black pepper, to taste
Directions
TO MAKE MASHED SWEET POTATOES:
OVEN BAKED: Line a baking sheet with foil or parchment paper. Wash, peel and cut sweet potatoes into quarters or 6 pieces. Arrange onto baking sheet; drizzle with a small amount of oil and season with salt and pepper. Cover baking sheet with foil and bake for 30-45 minutes, or until easily pierced with a fork.
STOVE TOP: Fill a large 5 Quart pot with water and add about 1 tablespoon of salt. Wash, peel and cut sweet potatoes into quarters or 6 pieces, depending on size, and add them to the pot. Cook until easily pierced with a fork. Drain.
TO MAKE THE SWEET POTATO CAKES:
Put cooked sweet potatoes in a bowl and mash.
Add the mozzarella, parmesan, green onions, 1/2 cup of bread crumbs, garlic, parsley and egg.
Season with salt and pepper, and mash all ingredients together well with a potato masher to combine.
Place remaining 1/4 cup of breadcrumbs onto a plate.
 Scoop 1 tablespoon of mixture into the palm of your hands and form into round patties about 1/2-inch thick.
 Dredge patties in the bread crumbs, evenly covering both sides, and set aside until ready to cook.
Heat about 1 tablespoon of oil in a medium-sized nonstick pan over low-medium heat. When oil is hot, add the patties in batches of 4 or 5, and cook for about 6 minutes on each side, or until golden and crispy, using a small spatula to flip them very carefully. Add more oil in between batches if needed.
Quick Tip: Do not replace breadcrumbs with flour. The breadcrumbs absorb some of the moisture of the sweet potatoes, and set better.
Recipe and image courtesy of Karina at Café Delights