Don't Be Surprised When Your Guests Cry Out Encore After Just One Bite of This No-Bake Dessert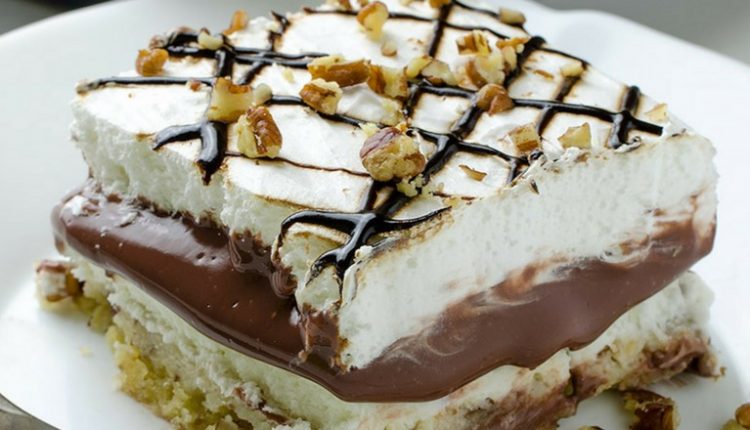 I love the layers in this yummy chocolate cake. The crust just tastes so decadent. Because I wanted it to have a classy feel I decided to make this in two spring form pans and slice into wedges. I drizzled each plate with a few strands of chocolate before putting the slice on the plate. It was so beautiful that people actually thought the piano teacher had a professional bring in the dessert!
The best part was watching my daughter play her piece perfectly. After hours of practice she hit every note just right. All the hours of practicing paid off.
Chocolate Lush –No Bake Dessert
INGREDIENTS
For crust:
1 cup all-purpose flour
½ cup butter, softened
½ cup chopped pecans
For cream cheese layer:
1 (8oz) package cream cheese, softened
1 cup powdered sugar
1 (16 ounce) container Cool Whip, divided
For chocolate pudding layer:
2 packages (3.4 ounce each) instant chocolate pudding mix
3 cups milk
½ cup chopped pecans, for topping
Chocolate syrup, for topping
INSTRUCTIONS
To make crust:
Preheat the oven to 375F
In a medium bowl combine all-purpose flour, butter, pecans and mix well
Press into the bottom of a 9×13 inch baking dish and bake about 15 minutes until lightly golden brown
Allow to cool completely
Cream cheese layer:
In a separate bowl mix cream cheese and powdered sugar with electric mixer until smooth
Fold in half of the Cool Whip and mix until combined, spread cream cheese mixture evenly onto crust
Chocolate layer:
In a medium bowl whisk chocolate pudding mix and milk for 2 minutes, spread over cream cheese layer
Top with remaining Cool Whip onto chocolate layer and sprinkle with chocolate syrup and chopped pecans
Chill dessert until ready to serve
Quick Tip: You can try other pudding flavors as well if you are not a huge chocolate fan.
Image and recipe courtesy of Lidia of Yummiest Food.com