Dinner in under 30 minutes? Try this spicy dish tonight!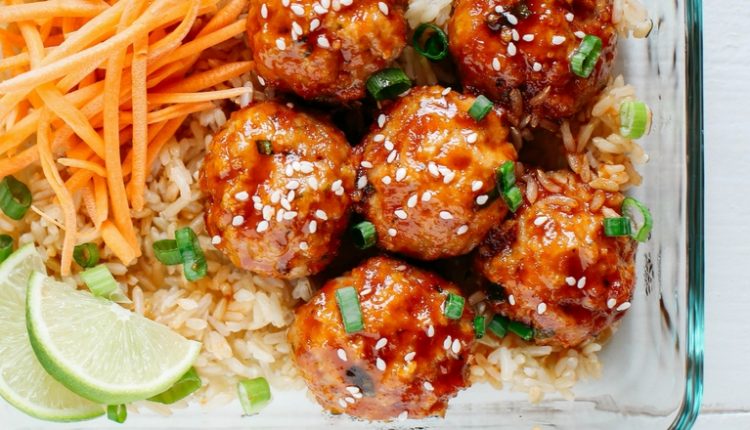 Dinner, Appetizer, Lunch? WOW talk about multi functional!
I use to buy a big bag of meatballs from Costco when all out kids were home. They weren't the best tasting, not sure it is was the flavor or the texture, but they were food that could be fixed in a hurry. That was what counted then since we had 6 kids at home.
I used to use the meatballs in spaghetti sauce, sub sandwiches, and for a quick snack dipped in BBQ sauce.
But they weren't the best tasting thing so after we had several kids move out and our family size change, I began to buy more and more things in smaller quantity.
This meatball recipe might just be what I was looking for! Since I am not a huge ground turkey fan I will replace it for ground chicken. If you are a beef purist, go ahead and use ground beef. Hey..it is your dinner! Do what works best for you!
If you have some reluctant or picky eaters, feel free to go light on some of the sriacha sauce. Trust me ..we lived in the Midwest for 9 years. Pretty sure their idea of hot sauce was un-refrigerated ketchup!
This is what Kelly at Eat Yourself Skinny has to say about this winner of a recipe.
Not only is this sauce ridiculously easy to make, but as I said before, how can you go wrong with flavors like Sriracha, soy sauce, ginger, honey, and garlic?! The answer is you can't. Most store-bought sauces come saturated in preservatives and other ingredients that you can't really pronounce which is why I am all about making my own.
GO TO THE NEXT PAGE FOR LIST OF INGREDIENTS AND DIRECTIONS.
Quick Tip:  Since these are so yummy and easy to put together why not make up at least a double batch of meatballs, freeze them on a cookie sheet after baking and then put in freezer bag. Take out as needed.
Recipe and photo courtesy of Kelly at Eat Yourself Skinny