You Had Me At Bacon Wrapped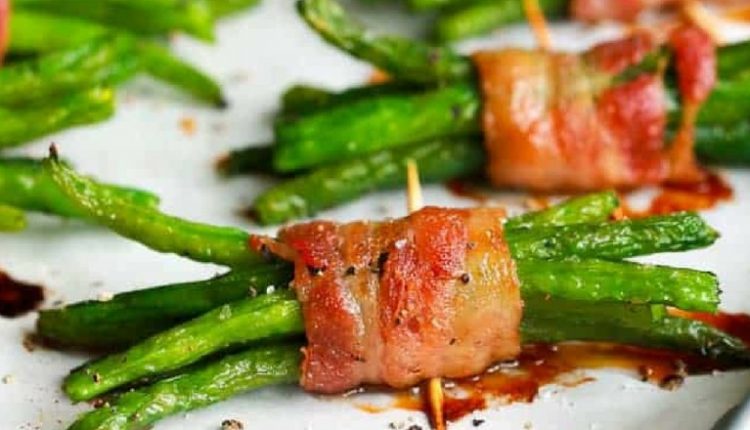 When I was growing up my parents belonged to a couple Bunco group that met once a month at someone's home. They would eat dinner and then play, but the biggest point of the whole monthly meeting was just to spend time together.
My mom would spend a lot of time making sure things were perfect when it was her turn to host the group. This is one of the recipes that she made as a side dish and trust me, it was a huge hit!
Bacon Green Bean Bundle
INGREDIENTS:
Green beans (about 1 1/2 lbs) 6-8 beans per bundle
1/2 teaspoon baking soda
6 slices bacon
1/4 teaspoon garlic powder
salt & pepper to taste
1 tablespoon brown sugar
DIRECTIONS:
Preheat oven to 375 degrees.
Cook bacon on the stovetop until slightly cooked (You don't want it crispy). Reserve any drippings.
Trim and wash green beans. Bring a large pot of water to a boil. Add baking soda. Add green beans and cook 3 minutes until tender crisp. Remove from boiling water and place in a bowl of ice water to stop cooking.
Dab beans dry and toss with reserved bacon drippings (about 2 teaspoons), garlic powder and salt & pepper to taste.
Cut each slice of bacon in half and wrap around about 6-8 green beans, secure with a toothpick and place on a parchment lined pan.
Combine brown sugar with 1 tablespoon of water and lightly brush over each bundle.
Roast 20-22 minutes or until bacon is crisp and beans are lightly roasted.
Quick Tip: These are perfect sides for grilled meats but you might want to make a few extra because people will wasn't to go back for seconds.
Image and recipe courtesy of Holly at Spend With Pennies