Want to Avoid the Dinner Rush? Throw this in your Crock-pot and come home to dinner.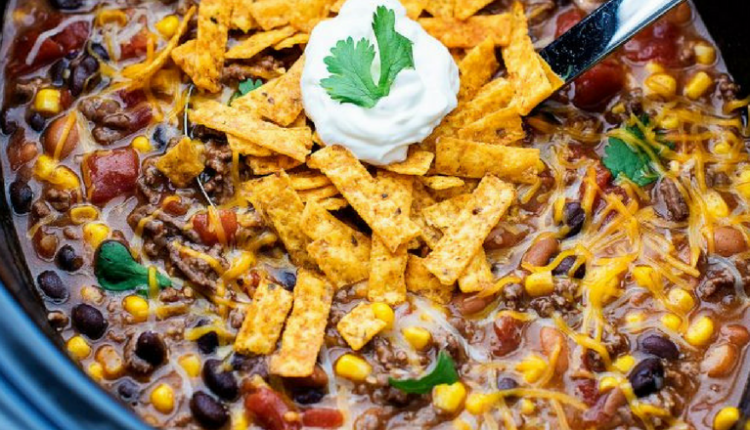 I love being able to have something that can be ready on a game day..not that my son plays football every single day, but it feels like it! Sometimes he is so hungry for something hearty after practice and homework. Having this soup around is a perfect go-to as far as heating something up that will help fill him up and fuel him up.
CROCK POT TACO SOUP
INGREDIENTS:
1 (15 oz.) can black beans, drained and rinsed
1 (15 oz.) can pinto beans, drained and rinsed
1 (14.5 oz.) can petite diced tomatoes, drained
1 (15.25 oz.) can sweet corn, drained
1 (10 oz.) can green enchilada sauce
2 (14 oz.) cans chicken broth
1 (1 oz.) packet taco seasoning
1 Tablespoon cornstarch + 2 Tablespoons water
1/2 pound lean ground beef
DIRECTIONS:
Add all beans, tomatoes, corn, enchilada sauce, chicken broth and taco seasoning to a large crock pot.
Stir to combine.
Cover with lid and cook on low heat 3 to 6 hours. (Mine was hot and ready after 3 hours.
If you're leaving this in while at work keep it on the warm setting for 8 hours.)
Mix together the cornstarch and water to create a slurry. Add to the soup in crock pot and stir. This will help thicken the soup.
Brown and crumble the ground beef in a large skillet until thoroughly cooked. Drain grease. Add beef to crock pot and stir to combine.
Serve soup warm with shredded cheese, tortilla strips, sour cream, etc. Enjoy!
Quick Tip: This is the perfect thing to take to a potluck because you can just plug it in when you arrive and keep it hot.
Adapted from High Heels and Grills
Photo and recipe courtesy of Holly at Life in the Lofthouse.