Triple Berry Dump Cake..Comin' Right Up!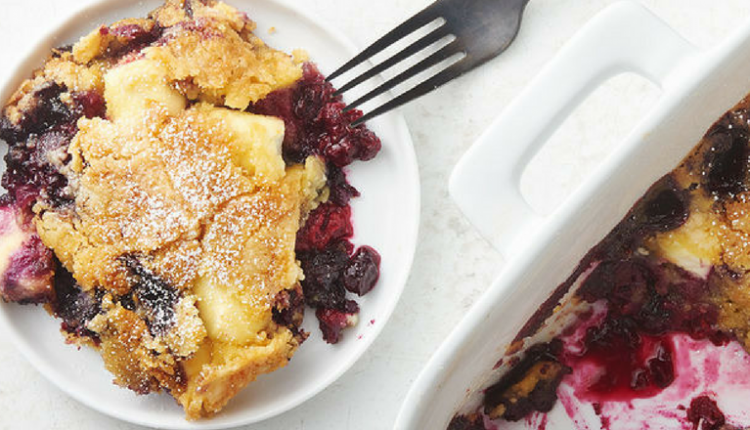 When they said this was the EASIEST cake ever. I thought they were kidding. I was wrong.
When I was a kid my mom used to make a cherry pineapple dump cake. I loved it so much that when I became a mom I taught my kids how to make it so that when company was coming over they could be in charge of dessert.
Seriously, it really is just dumping ingredients into a pan, and baking. Simple enough for a 6-year-old to make. However, I would use a bit of caution when applying a squirt of whipped topping! Just saying from experience!
However,  the cherry and pineapple combo can be on the sweet side and the cost of a can of cherry pie filling is not the most budget friendly.
I haven't made that dessert in years but seeing that you can use frozen berries? Now that makes sense and I can't wait to try it! I also love the fact that there is cream cheese in it. I am sure it will give just the right amount of creaminess.
This is what tsp. has to say about this quick and easy dessert.
Let us break that down for you. Triple berry: blueberry, blackberry and raspberry. Cream cheese: Hello yum, thanks for the hit of sweetness. Dump cake: The easiest kind of cake you'll ever make.
GO TO THE NEXT PAGE FOR THE INGREDIENTS AND DIRECTIONS.
Quick Tip: Need something to take to a party or outside picnic? How adorable to divide this up into 12 small mason jars and cook? You can actually put the lids on until time to serve! Perfect for taking to a party. Individual servings can be topped with a small scoop of ice cream or whipped cream.
Photo and recipe courtesy of tsp.