On Second Thought..Maybe I do Have Time For This!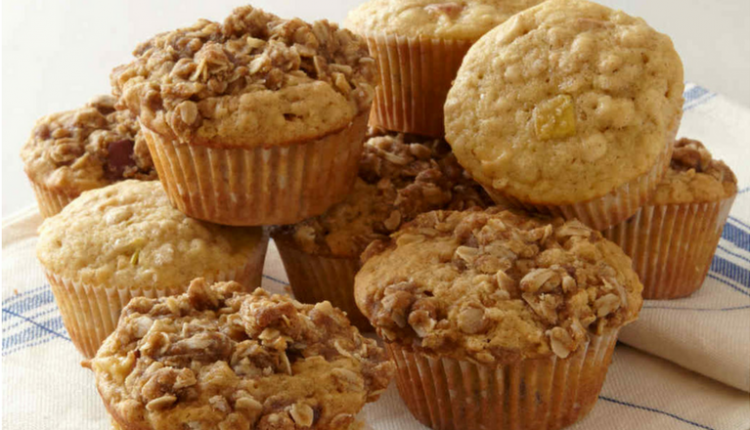 I never want my family to head out the door on an empty stomach but sometimes eating breakfast just doesn't happen.  Having great grab and go food that can be eaten on the run is a MUST for busy families.
One of these muffins. a hard boiled egg,  and a string cheese is a good start to filling them up and fueling them up.
Apple-Oatmeal Muffins
INGREDIENTS
1 1/2 cups all-purpose flour
1 cup quick-cooking oats
2 1/4 teaspoons baking powder
1 teaspoon coarse salt
1/2 teaspoon ground cinnamon
3/4 cup sugar
2 large eggs
1 stick unsalted butter, melted and cooled
1/2 cup whole milk
1 Macintosh apple, peeled and cut into 1/4-inch dice (1 1/4 cups)
Crumb Topping for Muffins – optional
1/2 cup quick cooking oats
1/4 cup all-purpose flour
1/4 teaspoon coarse salt
1/4 cup packed dark or light brown sugar
4 tablespoons unsalted butter, melted
Whisk together oats, flour, sugar, and salt. Stir in butter until clumpy.
DIRECTIONS
Preheat oven to 350 degrees.
Line a standard 12-cup muffin tin with baking cups.
In a medium bowl, whisk together flour, oats, baking powder, salt, and cinnamon. In a separate bowl, whisk together sugar, eggs, butter, and milk.
Stir wet ingredients into dry ingredients, then stir in apple.
Divide batter evenly between muffin cups, adding a scant 1/4 cup to each.
Sprinkle with crumb topping if desired.
Bake until tops spring back when lightly touched, about 20 minutes.
Cool in pans 5 minutes, then remove to wire rack to cool completely.
Quick Tip: Feel free to add in raisins, craisins, or nuts to this recipe. Whatever your family loves!
Photo courtesy of MIKE KRAUTTER