Quick and Simple Because the Dough Is Already Made! Ssh ..It is Our Little Secret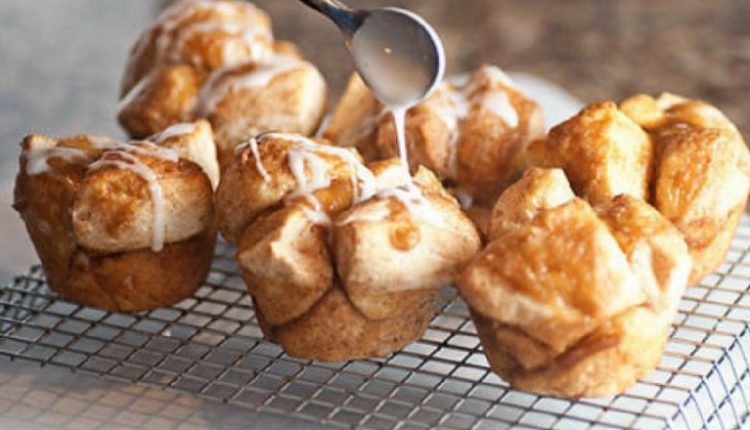 If I had a penny for every time I have made these over the last 2 decades…I think you get the picture. You never knew when a little something in the belly would be just what you needed to keep going. Sure you can have these for breakfast, but even as a light snack these are pretty darned good.
My husband used to plow snow in the winter. When I knew he was going out I would put a pot of coffee on and toss a batch of these for him to take. They really hit the spot and I think your family will love them just as much as mine does.
Caramel Monkey Bread Muffins with Icing
Ingredients
1 can (16.3 oz) Pillsbury™ Grands!™ Homestyle Refrigerated Biscuits Original
¼ cup granulated sugar
2 teaspoons ground cinnamon
3 tablespoons butter
6 tablespoons brown sugar
1/3 cup powdered sugar
1 tablespoon milk
Directions:
Preheat oven to 350ºF. Spray 8 muffin wells in a muffin tin with non-stick cooking spray.
Open package of biscuits and separate into 8 biscuits. Cut each biscuit into 6 pieces.
In a medium bowl, combine the sugar and cinnamon. Toss each biscuit piece in the sugar mixture to coat.
Place 6 pieces of biscuit in each of the 8 muffin wells. Set aside.
In a medium skillet, melt the butter over medium heat. Stir in the brown sugar and whisk constantly until it just begins to boil. Remove from the heat and drizzle one teaspoon of the caramel mixture over each muffin.
Place in the oven and bake for 13 minutes or until the biscuits are golden and cooked through. Remove from the oven and immediately remove the biscuits from the pan and place on a cooling sheet set over parchment paper, wax paper, or foil.
Add 1/4 cup of powdered sugar to a measuring cup. Stir in the 1 tablespoon of milk and stir until well combined. Drizzle the icing over each of the muffins. Serve immediately.
Quick Tip: Serve with string cheese and fresh fruit for a quick breakfast.
Image and recipe courtesy of Tbsp.com