Perfect Game Night Snack
These crispy Pizza Sticks are bursting with a full stick of string cheese each and loads of pepperoni for the ultimate fried pizza snack. Only 3 ingredients!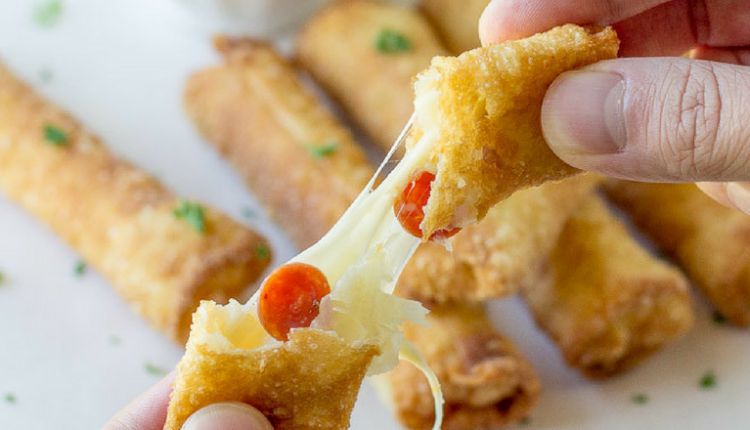 I have hardly done any deep fried foods in the last 3 decades. I don't own a Fry Daddy or any other deep fryer, but once in a while something like this pops up an I am so tempted to get an air fryer!  This is an easy recipe and if you are like me and need to use a skillet, just remember the oil can be saved in a mason jar for later.
Incredible Pizza Sticks
Ingredients:
12 egg roll wrappers
12 mozzarella string cheese sticks sliced mostly through lengthwise
mini pepperonis
2 quarts canola or vegetable oil
marinara dipping sauce for serving
Directions:
Set up an area for assembling the pizza sticks.
Working with one egg roll wrapper at a time, lay an egg roll wrapper on a plate.
Arrange a cheese stick at one end.
Fill the cheese stick with pepperoni where it has been sliced lengthwise and arrange additional pepperoni in a line next to the cheese slice.
Brush all the edges of the egg roll wrapper with water.
Starting at the end of the wrapper with the cheese stick, roll the wrapper tightly around the cheese stick and the pepperoni.
When the cheese stick is about 75% rolled, fold in the sides like a burrito and continue rolling.
Seal the edges of the egg roll wrapper on itself.
Set aside on a plate covered with a damp paper towel and repeat with remaining wrappers, cheese, and pepperoni.
Heat oil in a sauce pan, stock pot, or electric deep fryer to 350°F.
Working in batches, deep-fry 3 to 4 pizza sticks at a time until the egg roll wrapper is golden brown on all sides, about 3 minutes.
Remove to a plate lined with paper towels and repeat with remaining pizza sticks.
Serve pizza sticks warm with the marinara dipping sauce on the side if desired.
Quick Tip: Go a little crazy and try different flavored cheese sticks!