Perfect Game Night Snack
These crispy Pizza Sticks are bursting with a full stick of string cheese each and loads of pepperoni for the ultimate fried pizza snack. Only 3 ingredients!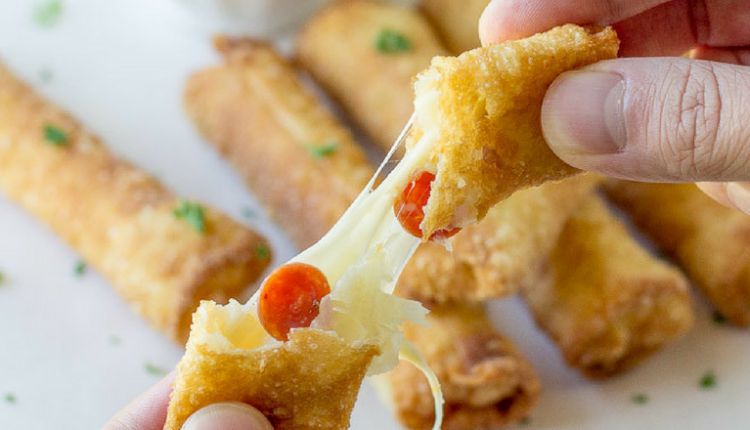 Whether you are watching football games or playing card games this snack totally packs a lot of flavor in each bite!
Getting tired of chips and dip? Try This flavorful snack and you might just hope the game goes into overtime!
These easy to make fun finger foods are exactly the kind of thing that our daughter and her friends would go crazy for at their yearly camp-out..which happened to be in a tent set up in the yard!
Having fun food makes getting together that much more memorable. I love that making caramel corn is a family tradition. I remember when my mom made it when our friends came over, but finding new recipes to start new traditions is also a fun idea.
While I might not want to have the kids help with the deep frying part, they can totally give me a hand with the assembly and rolling part, which actually adds to the fun! So go ahead, break out or make you favorite marinara sauce and let's get this party rolling..seriously.. I mean let's roll up some of these.
I do have to warn you. They are going to get eaten up so quickly that you might want to consider making a double batch!
This is what Meggan of Culinary Hill has to say about this fun finger food.
This trifecta of tastiness is as easy as wrapping up a cheese stick with some pepperoni in an egg roll and deep-frying it. You could bake the Pizza Sticks too, but why would you want to do that? Better to heat up a vat of oil. If that seems like a lot of work, trust me: It's worth it.
GO TO THE NEXT PAGE FOR INGREDIENTS AND DIRECTIONS.
Quick Tip: Buy some small disposable cups from a restaurant supply to put sauce in. Perfect for lunches where dipping is needed!
Photo and recipe courtesy of Meggan of Culinary Hill