Perfect For Busy Weeknight Meals.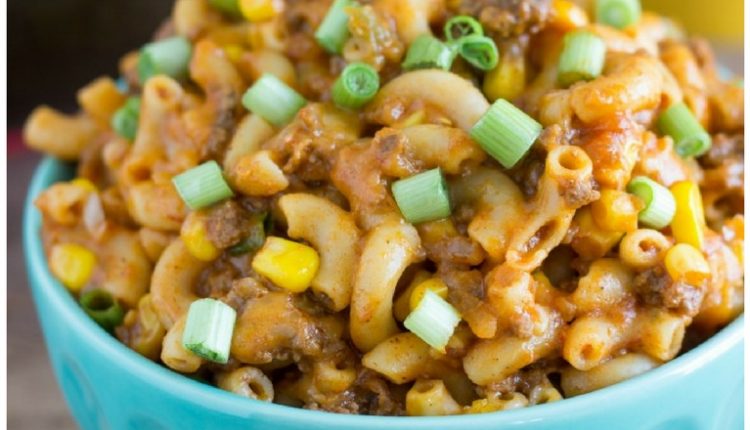 One thing about this dish is that you can swap out the macaroni for rice or quinoa. Yippee! I love that this is a super easy and I have made the quinoa version so many times it has become on of my go to recipes. I love being able to go ahead and make up serving size containers to take along for lunch. In fact this is so good. I don't even care if I eat it cold.
One Skillet Cheesy Taco Pasta
Servings: 6
Ingredients:
1 pound extra lean ground beef
1/2 cup onion finely chopped
1/2 teaspoon minced garlic
2 cups water separated
1 cup salsa
1 cup frozen corn
1 packet taco seasoning
2 cups elbow macaroni 10 ounces
1 cup taco sauce
1 and 1/2 to 2 cups taco or Mexican shredded cheese
Optional toppings: green onions, sour cream, diced tomatoes, diced avocado
Directions:
Brown the ground beef in a large skillet.
Drain the fat and add in the onion and garlic.
Stir until onions are translucent – about 30 seconds to a minute on medium-high heat.
Add in one cup of water, salsa, corn, and taco seasoning.
Stir well and add in the uncooked pasta and taco sauce.
Bring to a boil and then lower to low-medium heat and cover the skillet with a lid.
Let simmer for about 5-7 minutes and then add in the last cup of water and stir everything together again.
Return lid and let simmer until pasta is tender, about another 5-7 minutes.
Remove from heat and sprinkle with cheese. Top with optional toppings of choice.
Quick Tip: Serve with a side of salsa and sour cream.  To add a bit of extra heat go ahead and toss in some fire roasted
Hatch Chilies.