No Need TO Fuss Over Making Chicken Enchiladas With This Crown Pleaser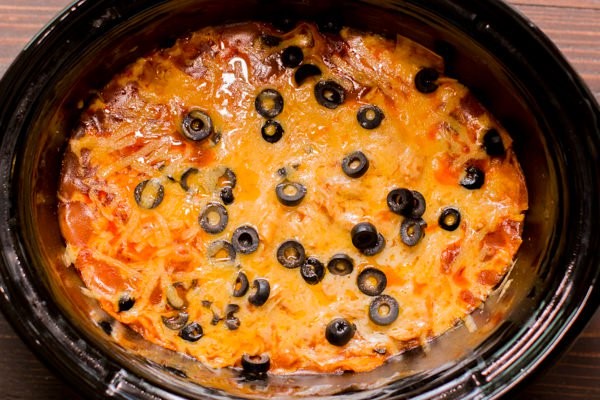 I feel like I am still learning about crock pot cooking. I have friends who totally swear by it and so I am trying new recipes all the time. I think I always thought the only thing you could cook in a crock pot was a roast with potatoes and carrots and sprinkled with Lipton Onion Soup mix.
It always seemed super salty and greasy and the vegetables were also laden with grease and drippings. This is why my Crock-pot sat in the back of the cupboard for so long I almost forgot I even owned one. This is a recipe that I really changed my mind about my under utilized kitchen appliance.
CHICKEN ENCHILADA CASSEROLE
Serves: Serves about 7
INGREDIENTS
1.5 lbs. boneless skinless raw chicken breasts
1 28 ounce can Red Enchilada Sauce (I use El Pato Brand)
Add these ingredients at the end
10 corn tortillas (I used an entire 11.7 ounce bag)
3 cups grated cheddar cheese (divided)
1 3.8 ounce can black olives (divided)
INSTRUCTIONS
Put the chicken breasts and the enchilada sauce in your slow cooker.
Cook on HIGH for 4 hours or LOW for 8 hours.
Shred the chicken with 2 forks right in the slow cooker.
Cut the tortillas in to strips, add to chicken and sauce.
Stir.
Add 1 cup of cheese and half the olives into the sauce and chicken mixture.
Stir again.
Flatten the mixture slightly.
Add the rest of the cheese and the olives on top.
Cook on low for about 40 – 60 minutes longer.
Top with sour cream and cilantro (optional)
Quick Tip: This is perfect to make ahead so all you have to do is heat it up! In fact, I have made a double batch just tso I can put some in an 8-8 pan and freeze it!
Image and recipe courtesy of Sarah at The Magical slow cooker.