If you need something for Game day! This recipe Scores lots of points.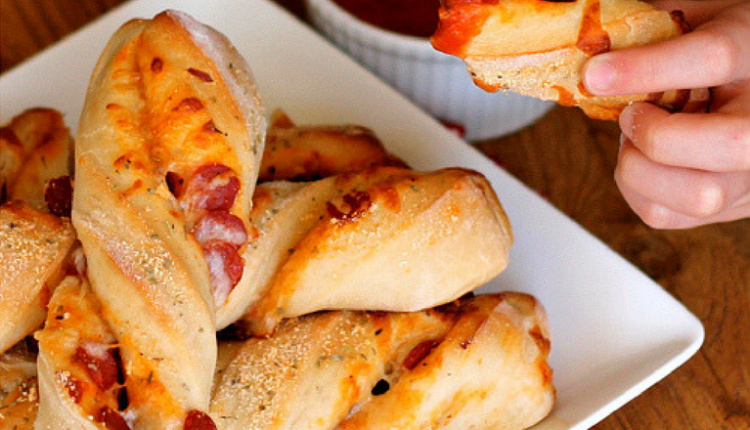 Sometimes you just need a little TWIST.
Our family loves pizza. Especially homemade pizza! And they love hot from the oven breadsticks  that they can dip into spicy marinara sauce. This recipe combines both of those family favorites into one flavor bursting finger food that is sure to please everyone.
I love that you can buy pizza crust dough, but there is also frozen dough that works as well and might be a bit more cost effective.
Of course homemade dough is always an option! When I make pizza crust or breadsticks I add some fresh snips of rosemary and a few crushed cloves of garlic.
Yikes! I am making myself hungry just thinking about it!
The fun part of this recipe is that you can add your favorite pizza toppings such as olives and bell pepper.
Go ahead, get a creative! I can hear your fans cheering right now!
This is what The Weary Chef has to say about this recipe.
These little sticks of heaven are made using frozen bread dough and are pretty easy and very fun to make. They have gameday snack, party food, or even pizza night dinner written all over them!
GO TO NEXT THE PAGE FOR INGREDIENTS AND DIRECTIONS.
Quick Tip: If using frozen dough, make sure to set out in plenty of time to thaw by setting in refrigerator for 24 hours prior to using.
Photo and recipe courtesy of Andi at The Weary Chef