Need a Quick Dinner? No Worries..This Recipes Got You Covered!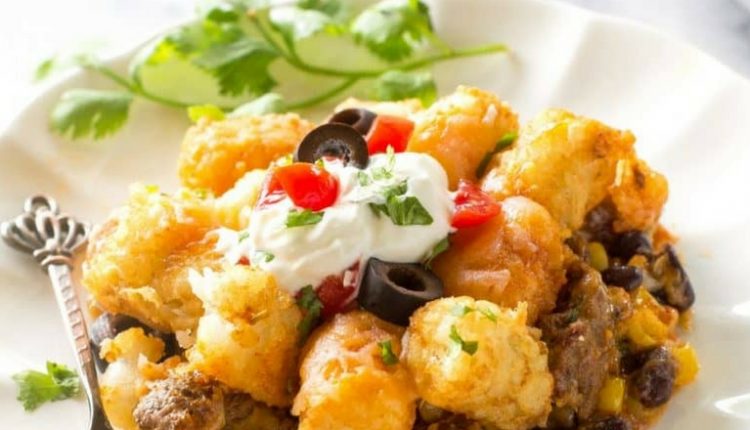 This casserole has everything in it!
Enchilada sauce, chilies, corn, black beans, ground beef..and TATER TOTS?
Full confession, when I saw this recipe I thought maybe I had looked at it wrong, but there it was, tater tots on basically everything I would wrap into a tortilla and smother with cheese. But then I realized it made so much sense because it saved so much time!
I was used to serving tater tots to our kids when they were young with a small dab of catsup to dip them in, but this recipe uses the finger food as an ingredient. Brilliant.
Basically, a tater tot is just a hash brown. The small little potato creations make for a perfect serving because of the line up neatly on top of the casserole.
When we lived in Minnesota, Tater Tots were part of several "hotdishes" that graces the long church potluck tables that also brimmed with an assortment of Jell-O salads. But the contents of the main dish usually involved string beans, sausage, and cream of mushroom soup.
This recipe is a spicy dish that can have extra heat added or be toned down a bit for those with a delicate palate.
And chances are you might even have most of the ingredients in your pantry!
Because you are skipping the tortillas, this is also a great gluten free option. Your company will love that you thought of everything. But knowing how quick and easy this is to put together can be our little secret!
This is what Christy from The Girl Who Ate Everything has to say about this creative dish.
This Tater Taco Casserole is a dish that the whole family will love. I've made quite a few failed dinner attempts lately so redemption was in order.
Everyone loves tater tots and everyone loves Mexican food so why not combine the two!
GO TO THE NEXT PAE FOR THE INGREDIENTS AND DIRECTIONS.
Quick Tip: If you would prefer chicken or turkey option, just swap out beef.
Photo and recipe courtesy of Christy from the Girl Who Ate Everything.