This Mexicali CASSEROLE is like Shepard's Pie in a Sombrero!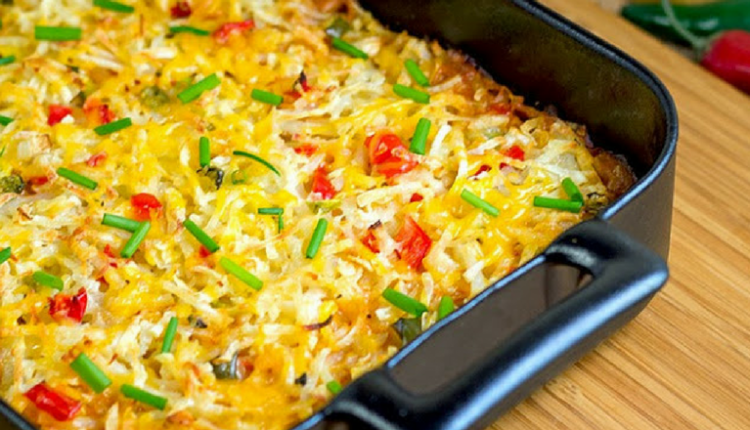 Seriously, break out the pinata, this party is about to get started!
I read through the ingredients after looking at the photo, but when I go to one of the ingredients on the list I was thinking, YOU HAVE GOT TO BE KIDDING!
I would have never thought to put a can of tomato soup in this! Sure I have a few cans around because on a crisp Autumn day I love the hot tomato-y soup with a small pile of gold fish crackers next to my bowl. But in a casserole?
I followed the recipe and guess what? It looks like I will need to get a few more cans the next time we go to the store. It was that good. In fact, the next time we have company coming over right after church, I am going to make a few pans of this the night before so as soon as I get home all I have to do is pop them in the oven.
Big crowd? Make a double batch!
Because the hash browns are already cooked up it is nice to have something that can be ready at the drop of a hat.This recipe calls for corn and I admit I love the canned corn that I buy from Costco. I think there is more than one cup in each can so if you don't want to store the tiny bit that is left over, go ahead and put it in!
This is your casserole for goodness sake.
So make it yours by adding your favorites ingredients.
This is what Judith of Bake At Midnight has to say about her quick and delicious casserole.
The base of this casserole is a creamy taco-flavored ground beef mixture. You can leave the taco seasoning out or use other spice blends if you'd like. My recipes are never carved in stone…make them your own.
Top all this off with a crunchy-cheesy-peppery layer of hash browns and you've got a complete dinner in a dish!
GO TO THE NEXT PAGE FOR LIST OF INGREDIENTS AND DIRECTIONS.
Quick Tip: Cook up the ground beef as soon as you get home from the store.
Photo and Recipe courtesy of Judith from Bake at Midnight