Love this to the Spoon and Back!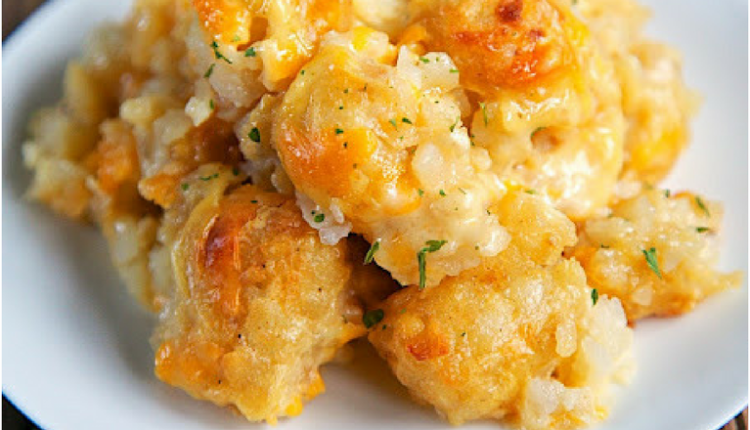 This is one of the easiest recipes you will find on the internet.
This recipe only has 4 ingredients. FOUR! As far as measuring anything, that doesn't even need to happen. It is just a matter of dumping everything in a pan, stirring it up, and baking until hot and cheesy.
It is the kind of recipe you love to take because people go wild over it, however, you hate to give out the recipe because people have no idea how insanely simple this is.
In fact, I thought it was a joke at first and had to make sure this wasn't posted on April Fools Day!
So the next time someone is taking sign ups for a pot luck or a get together grab a pencil or pen and sign up for a side dish. As many 9 x 13 pans as I have made, it is nice to know we can make this into 2 – 8 x8 pans of three loaf pans for a smaller crowd.
When John and I first got married cooking for only two was a big adjustment. I had done quite a bit of cooking and as the oldest of 4 children, it meant a lot of casseroles and large quantities. So it was a surprise when John came home from work and saw I had made 2 9×13 pans of enchiladas. TWO.
"Who is coming over?" he asked.
"No one," I replied. "I just thought I would make enough for left overs!" Yep..Enchiladas for the next two weeks and that was after we took our neighbor over some. Being able to adapt recipes for your crowd size is so important.
This is what Stephanie at Plain Chicken has to say about her super simple recipe;
The French Onion part of this casserole comes from you favorite French Onion dip. I prefer Kraft French Onion dip, but any refrigerated French Onion dip will work great. I loved the flavors in this casserole. I could have made a meal out of it! We like to serve it with chicken, steaks, pork tenderloin and burgers. It really goes with everything. Make this ASAP!
GO TO THE NEXT PAGE FOR INGREDIENTS AND DIRECTIONS
Quick Tip: Try making this with Pepper Jack cheese for a little kick.
Photo and recipe courtesy of Stephanie at Plain Chicken