Looking for Love In All The Right Places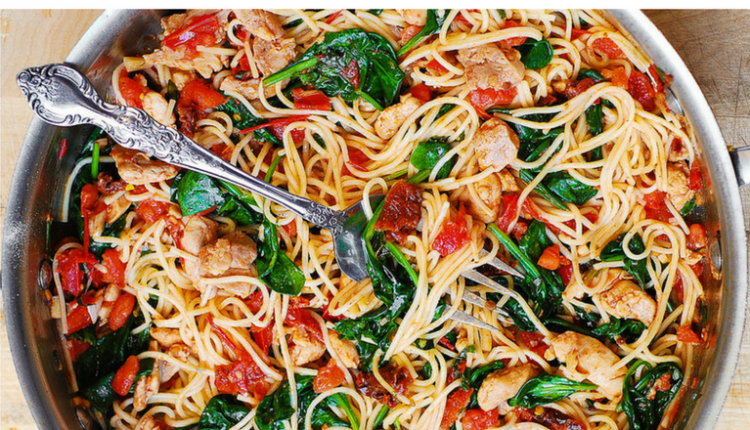 My Dining Table It the Right Place For This Pasta Dish!
I am very sure that good food is my families "Love Language". Wehn they walk in the door and are greated with garlic and basil leaves being stirred together is is like a huge hug.
Seriously, this is one of those dished that you make and wonder why you have never thought of it before.
I love that the sauce is so much lighter than a heavy marinara sauce or Alfredo sauce and the sun dried tomatoes are the perfect touch to this Italian inspired dish.
I think we sometimes don't stop to think about what we have in our pantry or refridge to make dinner. Sometimes we think we have to stop and get one or two things at the store every day. That is so expensive and time consuming, plus I can't even count how many times I have walked into a store to get milk and come out with several bags of groceries I didn't even know I needed.
So much of this recipe is from fresh food, so next time you are at the store or farmers market go ahead and pick up a few of these ingredients. You will be glad you did and so will your family.
Because this is a basic recipe you can add in what you want such as diced onions, zucchini, bell peppers and even olives.
So what are you waiting for. Apron up and let's get some love cookin right now!
This is what Julia says about this recipe.
What makes this pasta very special is that in addition to fresh tomatoes, basil, garlic, and spinach, I also used sun-dried tomatoes and red pepper flakes to add lots of flavor!
GO TO THE NEXT PAGE FOR INGREDIENTS AND DIRECTIONS.
Quick Tip: If you would rather have swap out chicken for Italian sausage feel free!
Photo and Recipe courtesy of Julia at Julias album.