Fishing For Compliments? Make This For Dinner And See What Happens!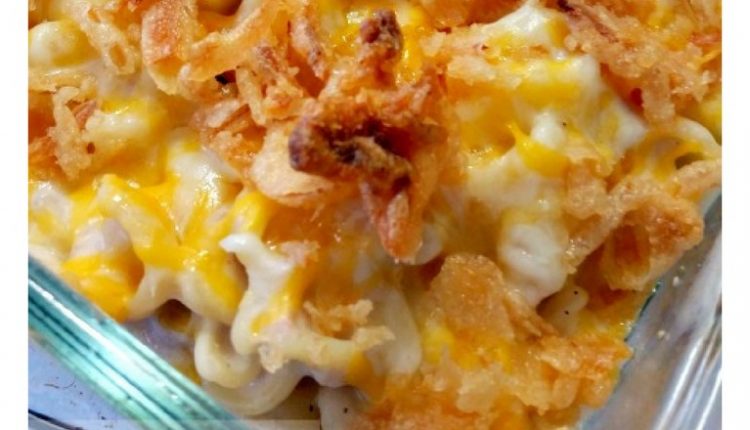 My mom used to make a tuna casserole that was fairly standard fare. Basically it was a white sauce with a can of tune and a bunch of frozen peas mixed in. She served it over rice and it was the only kind of fish my dad would eat.
We would have occasional fish sticks, but we weren't a big fish eating family. Whenever my dad went fishing with my brothers he did a catch and release so he wouldn't have to eat his fish.
I still make that recipe creamed tuna with peas recipe, but this might be a nice catch.
Tuna Noodle Casserole Recipe
Ingredients
1-2 cans tuna, drained or 3 cups shredded chicken or turkey breast
3 Tablespoons olive oil
½ large white onion diced
3-4 mini Bella mushrooms, sliced
Salt and pepper to taste
1 teaspoon garlic powder
4 oz cream cheese
½ cup sour cream
1 10.5 oz can mushroom soup
¾ cup milk
8 oz any pasta (your preference)
1 cup shredded Colby jack cheese
1 cup french fried onions
Instructions
Preheat your oven to 375 degrees. Lightly grease your baking dish with cooking spray.
Slice mushrooms and dice the onions.
Start your pasta water cooking.
Heat the olive oil in a large frying pan over medium heat. Once the oil is heated, add the onions and mushrooms and saute until the onions are translucent. After the onions are done, add your pasta to the water and cook until al dente (7 minutes or so).
Add the mushroom soup, cream cheese, sour cream, milk and garlic powder to the frying pan and heat until it's hot.
 Season with salt and pepper to your tastes once it's all warmed up.
Drain the pasta well and add to the pan and stir to mix. Make sure your pasta gets covered well.
Once you've mixed the pasta well, add the tuna (make sure it is well drained) or cooked chicken to your pan and mix it all up again.
 Pour the mixture into your baking dish.
Add the shredded cheese on top. If you want more cheese, go for it.
If you're making this amazing casserole recipe for tonight's dinner, sprinkle the French fried onions on top the bake at 375 degrees for 10 minutes or just until the onions are golden brown and cheese is melted.
Quick Tip: Serve with a salad and steamed vegetables for a great dinner.
Recipe and image courtesy of Stacy at Six Dollar Family