The Easiest Tex-Mex Skillet Recipe This Side of the Rio Grande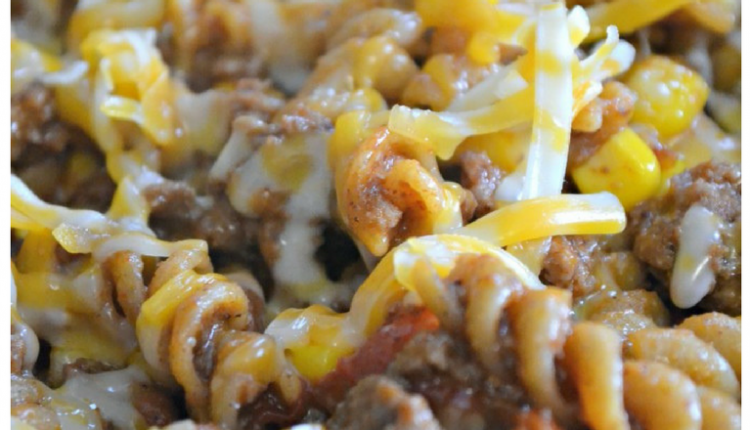 Skip the Hamburger Helper! This is just as easy and TWICE as good!
When I was growing up my parents built a cabin near Lake Tahoe. Every weekend, for about a year, we would pile into the old Suburban and head toward the mountains where we "roughed it".
Part of that was eating our fair share of Hamburger Helper. For being limited on having the luxury of a stocked kitchen, it was pretty darned easy. I mean cook up hamburger, dump the packet if ingredients in the same skillet, add water and simmer until cooked.
I remember sitting on paint cans with our plate of food, under the construction lamp while we were building. One night a moth flew into my plate and tried to do the butterfly stroke out of my dinner.
It must have been one of those childhood traumatizing events because think that was the last time I ever ate Hamburger Helper.EVER.
This recipe looks just like what we used to make out of the box, only better! It is one of those recipe that you can have all the ingredients for as a back up plan.
Heaven knows there are some days that you can use all the help you can get and having a dinner that is easy enough your teens can put together without trashing the kitchen is a huge bonus. Just make sure you are free of flying bugs and you will be amazed at how tasty this One Skillet meal is.
This is what Brittney of The Domestic Geek blog has to say about her creatively genius recipe.
I've eaten my fair share of processed food. I actually don't want to know the percentage of my meals that were microwave ready or found in the freezer section. In fact I loved Hamburger Helpers, who doesn't? They taste great and they're super easy to throw together, they're just not the greatest for you.So I came up with my own Tex-Mex skillet. This recipe is my ode to Hamburger Helper. Just as easy and so much tastier and healthier!
GO TO THE NEXT PAGE FOR INGREDIENTS AND DIRECTIONS.
Quick Tip: To really make this a super easy option for those "What are we going to have for dinner?" days. Buy 4 pounds of ground beef and cook all of it up at once. Go ahead and drain, then divide into fourths.
Make your meal out of one of the fourths and put the other three into quart size Ziploc bags and put in the freezer.
Next time you want to make this all you have to do is defrost and you are ready to roll.
Recipe and Photo by Brittney of The Domestic Geek Blog