Buckle Up For This Blueberry Treat!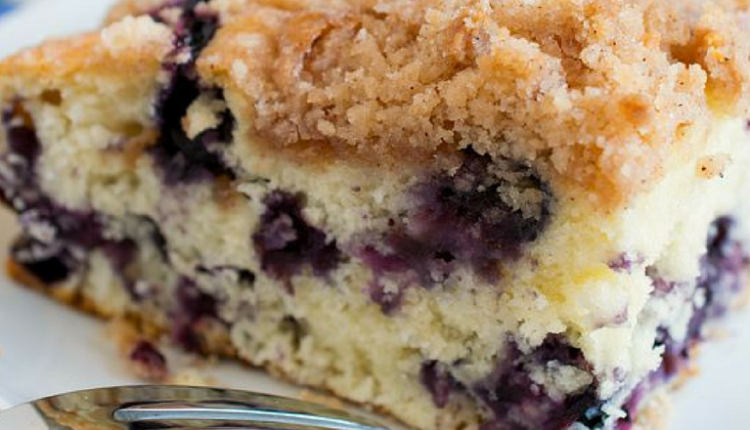 The Strudel Topping is what makes this blueberry treat really stand out! Can I get a round of applause?  Thank you!
When I say the recipe for Blueberry Buckle I was surprised! I am not sure about you but the only blueberry buckle I had heard of to this point has to do with little jars of purple baby food.
From the moment I twisted off the lid to that little glass jar I could smell that blueberry cobbler type of smell. A huge improvement over the green beans and squash.
I just bought a container of fresh blueberries and was looking for a few new things to try and this is definitely going on the list.
Basically, it looks like a coffee cake with blueberries in it. Which makes me wonder if I could make this same recipe by using a muffin time. What would be a great way to help with serving size.
I don't mean to buckle under pressure. Having something that can almost serve itself is a huge benefit. Imagine having a platter of baked goods, yogurts, and fresh fruit all set out for breakfast! Yep.. that is serious mom points.
This is what Martha and Jack of A Family Feast have to say about this wonderful recipe.
A buckle is an old-fashioned single layered cake interspersed with berries and with a streusel-type topping that "buckles" as it cools. There is one word for that blueberry buckle: sublime. Not too sweet, perfectly moist, warm and bursting with berries. OK – that was more than one word, but this is a must-try recipe!
GO TO THE NEXT PAGE FOR INGREDIENTS AND DIRECTIONS.
Quick Tip: If you can't find fresh blueberries go ahead and buy frozen blueberries or even go for a mixed berry! Seriously, no judgement here.
Photo and recipe courtesy of Martha and Jack of A Family Feast