When You Have to Bring a Side Dish.. check out this Savory Wonder!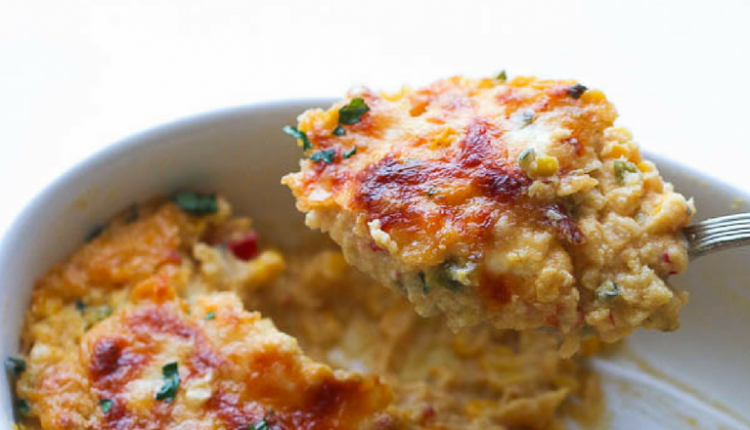 Raise your hand if you need some Side Dish Inspirations. Thank You! I see those hands waving!
In the summer months, I have to admit, I tend to get a little lazy when it comes to side dishes. Really, why not cut up a watermelon and call it good! But every once in a while, the regular dish of baked beans, salad, or melon, might not be the best choice. Sure it is the easiest go-to, but how about trying something new.
This corn dish is savory and has a little heat. Plus you can actually prepare this in advance so all you have to do is toss it in the oven before you need it so it is hot and ready to serve. Seriously, I think people will love this.
If you have fresh corn, well, there you go! A new way to serve it. In fact, I love roasting corn on the BBQ, cutting it off the ear and putting it in the freezer for later use. I roast it right in the husk so it doesn't dry out and has a bit of a smokey flavor. But, you can also just buy a can of corn and call it good. After all, this is supposed to make your life easier so let's apron up and get cooking.
Imma had a recipe for creamed corn, but I never have that on hand. Ever. So was happy to see that she also had this version.
I think it is just as easy and actually looks a little better. Plus, I do like the idea of adding in sausage if you would like. Hey, I am all for cleaning out the little odds and ends in the fridge and if it sounds like it could go in this cheesy dish, feel free to add it in.
This is what Imma has to say about her dish.
There are no words that I can use to satisfactory express how tasty this Caribbean Corn Pie is. Seriously! Am going blank on this one. Ok, here is my attempt at it. Spoon after spoon after spoon of Pillowy, Creamy, Corny, Spicy Goodness.
GO TO THE NEXT PAGE FOR INGREDIENTS AND DIRECTIONS.
Quick Tip: Feel free to sprinkle bacon bits on top for a little added flavor. Not that it really needs any, but our family goes hog wild over anything with bacon on it.
Recipe and photo courtesy of Imma of Immaculate Bites.