Break out the Polka Music for a Twist on a Classic Favorite!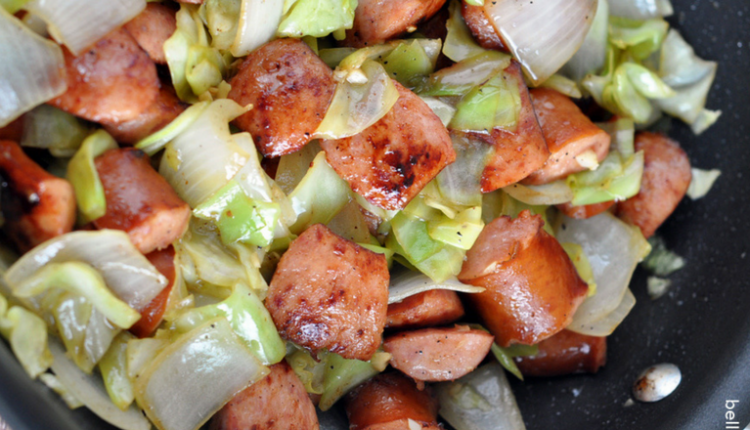 Cabbage is one of those vegetables that is always available with is a total win because this dish can be made anytime. Plus, I love that it can stay fresh for much longer than lettuce. If you want to beef this up a bit, go ahead and add in slivered carrots or other veggies. This is your dinner to create something your family will love!
KIELBASA AND CABBAGE SKILLET
Serves: 4
INGREDIENTS:
• 2 pounds fully cooked kielbasa, cut in half lengthwise, then cut into 2 inch pieces
• 1 tablespoon extra virgin olive oil
• 1 head cabbage, coarsely chopped
• 1 large sweet onion, cut into large pieces
• 3 cloves garlic, minced
• 2 teaspoons sugar
• 1/2 teaspoon salt
• 1/2 teaspoon black pepper
• 2 teaspoons rice wine vinegar
• 1 1/2 teaspoons dijon or brown grainy mustard
DIRECTIONS:
Heat olive oil in a large nonstick sauté pan over medium-high and add kielbasa.
Cook, without stirring for 1 minute. Then stir occasionally for about 3 minutes. Transfer to a plate with a slotted spoon.
In the same pan with some of the rendered kielbasa fat, add the cabbage, onion, garlic, sugar, salt, and pepper.
Stir to combine and cook for about 8-10 minutes, stirring occasionally.
Mix in the vinegar and mustard; add the kielbasa back to the pan and cook for another 2 minutes to heat through.
Taste and adjust seasoning, if necessary.
Serve immediately on its own, over mashed potatoes, or on a bed of rice.
Quick Tip: Try making this with chicken sausage!